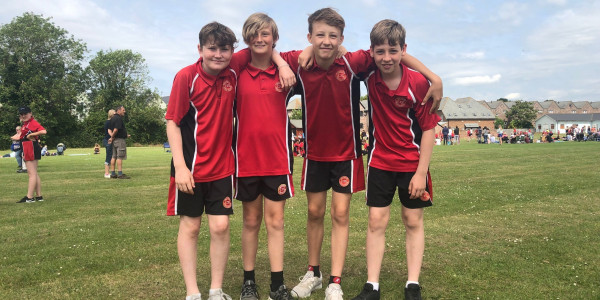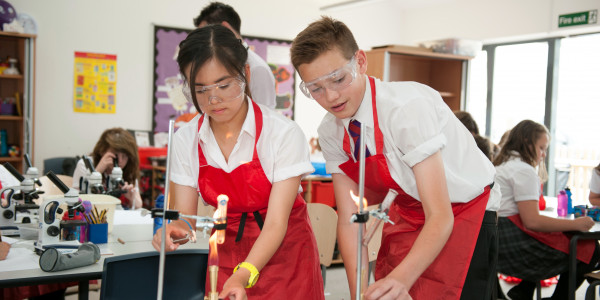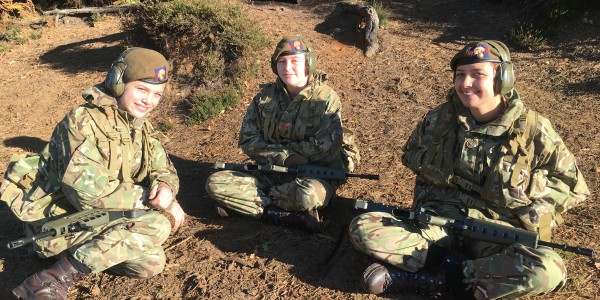 At Secondary level each subject will be taught with rigour, distinction and depth. We aim to nurture, challenge and inspire in everything we do at CFS, in and outside the classroom.
Learning
We aim to nurture, challenge and inspire in everything we do at CFS, in and outside the classroom. Our practice is rooted in academic rigour taught through engaging and inspiring lessons. We encourage our pupils to show temperance in lessons, challenge them to achieve the best that they can and inspire them through creative approaches which fire a desire to learn.
The Key Stage 3 Curriculum
Key Stage 3, at CFS, enables our pupils to develop the essential skills which they will apply to their GCSEs and A levels. Our pupils learn to be independent and flexible in their learning.
Our curriculum provides a range of traditional academic subjects as well as opportunities for creativity. 30% of our curriculum is dedicated to English and mathematics and most pupils learn two languages in Years 7 and 8 before specialising in Year 9. For those pupils who require support in English we provide intervention from specialist teaching staff.
Fortnightly lesson allocation is in the table below and you can view the Long Term Plan for each subject by clicking on the number in the table.  Each lesson is 55 minutes long.
*It is our policy that the vast majority of pupils study either French or Spanish in Year 8 and 9.  There are some exceptions for pupils who require additional English support.
Key Stage 4 Curriculum
At Key Stage 4 CFS pupils choose GCSE subjects which will enable the vast majority to achieve the English Baccalaureate which has been shown to help improve a young person's performance in English and Maths as well as enhance their prospects for entering further education or employment. This means that all pupils study for GCSEs in English, Maths and Combined Science (AQA Trilogy course), 
Students must then choose at least one of History, Geography, French or Spanish and we strongly recommend that students study both a language and a humanities subject.  The remaining choices are open.
We respond to pupil voice when deciding on the option subjects that are available for each cohort, but offer a wide range of traditional academic and creative subjects at GCSE, including: Design Technology, Food and Nutrition, Dance, Drama, Music, Business Studies, Media Studies, Computer Science, Triple Science, PE, Religious Studies and Statistics.
Fortnightly lesson allocation can be found in the table below.  Each lesson is 55 minutes long.
Sport
At CFS we recognise that education should develop the mind and body. Physical Education therefore plays a central role in this aspiration. Read more:
Feedback
We encourage reflective, formative feedback. Whilst pupils' books are marked regularly using a 'light-touch' for literacy and presentation, we value the verbal feedback that teachers give in lessons which has been shown to be both timely and effective at moving children forward in their learning. We don't have a marking policy, but instead, our feedback policy revolves around the expectation that pupils engage with and respond to individual verbal feedback from the teacher, whole class feedback (either written or verbal), peer feedback and self-assessment. The feedback that pupils receive in class should:
Focus on learning objectives and be specific and clear.
Inform teaching and learning.
Use language that is useful to the pupil.
Encourage and support the individual needs of pupils in a constructive way.
Highlight achievement indicating areas that they have been successful and indicate how improvement can be achieved; giving subject-specific targets.
Require pupil action and interaction, and enable pupils to progress/improve their work.
Reporting
Frequency
In Years 7-10 parents receive one report at the end of each term. Twice a year this is a 'Progress Report', once a year this is a 'Full Report'. In Year 11 parents receive one report at the end of each half term until Easter. Each report is a 'Progress Report'. The scheduling of these reports is released at the start of the academic year to teachers and parents.
Years 7- 10 have one Parents' Consultation Evening a year. Year 7 is in Courage Term, Year 8 in Temperance Term, Year 9 in Justice Term and Year 10 in Justice Term. There is a further Options evening for Year 9 in Justice Term. Year 11 have two Parents' Consultation Evenings a year, in Temperance and Justice Terms.
Content
The following is reported home on all reports:

'On Track' radar plot. In Key Stage 3 this is comparing required progress to meet end of Year 11 target grade against actual progress. In Key Stage 4 this is comparing GCSE target grades against GCSE predicted grades. Key Stage 3 radar plots are normalised, to remove any indication of attainment or direct comparison between pupils.
Comment. On full reports this is a three sentence comment for all pupils in every subject, outlining a WWW, EBI and general attitude to the subject. On Progress Reports this is an EBI for any pupils who are underperforming.
Learning Profile Grade 1-5 for each subject.
Target Grade (Years 10 and 11 only).
Predicted Grade (Years 10 and 11 only).
SLT comment reflecting on the pupil's overall achievement.
Key data: Attendance, number of Wisdom points, number of behaviour points.
On full reports, pupils will also receive a tutor comment.  Here is the outline of our Learning Profiles below:
Homework
CFS believes in homework that supports class study and has meaningful outcomes. Class teachers will set homework each week in most subject areas for all secondary students. We recommend that at Key Stage 3 homework for most subjects should take 30 minutes; at Key Stage 4 homework should take between 30 minutes and an hour.  All pupils have the opportunity to attend at least one supervised study session in school in which they work on their homework independently in a quiet atmosphere and Key Stage 3 pupils can opt for more when choosing termly clubs. 

CFS uses Google Classroom for setting homework and parents/carers can also log in to view the work being set.  Please see the attached user guide to assist you in setting up your account.
Use of Technology
We are an innovative school and place high importance on the use of technology.  All our KS3 pupils require a device (for example, chromebook)  for use in the classroom.  We use technology in and out of lessons to explore, create, experiment, assess and inspire. Our pupils find innovative ways to demonstrate their learning through such activities as independent research, film making, presentations and quizzes.
In Year 7 pupils have ICT lessons where they learn how to use an IT device as an effective tool in their learning. In Years 8 and 9 coding is taught as a discrete subject. Computer Science has a high uptake as an option subject in Years 10 and 11.
Equipment
Every secondary school pupil is expected to provide the following basic items of equipment for every lesson:
Chromebook, laptop or an iPad or other device
Black pen (and a spare!)
Purple pen
Calculator (Casio Scientific)
Pencil sharpener
Pencil
Ruler
Pencil eraser
Pair of compasses
Protractor
Every pupil must have a reading book in their bag every day.